Caught the very end of a news update a few minutes ago and nearly weed myself. There was a graphic of an earthquake in New Zealand and a line all up the NSW coast where a tsunami is expected to hit.
Woy Woy is barely a metre (about 39 inches) above sea level. I pictured myself hurtling up to The Rampart with my computer under one arm and a blanket under the other to sit out the night with my fellow Woy Woyans.
Right now some bloke on the ABC is saying don't panic but don't get yer camera and go down to the beach because you'll be the first death if the big wave does come.
Latest off the Met's warnings pages
"TSUNAMI WARNING NUMBER 3 FOR PARTS OF NEW SOUTH WALES
Issued by the Joint Australian Tsunami Warning Centre (JATWC) at
09:25 PM EST on Wednesday 15 July 2009
TSUNAMI THREAT TO THE MARINE ENVIRONMENT
SUMMARY:
Tsunami warning for the marine environment for parts of NEW SOUTH WALES.
Threatened areas extend from Gabo Island to Seal Rocks including Batemans Bay, Bellambi, Botany Bay, Gabo Island, Jervis Bay, Kiama, Merimbula, Montague Island, Moruya, Moruya Heads, Narooma, Nelson Bay, Norah Head, Shell Harbour, Sydney Harbour, Ulladulla and Wollongong.
Possibility of DANGEROUS WAVES, STRONG OCEAN CURRENTS AND SOME LOCALISED OVERFLOW ONTO THE IMMEDIATE FORESHORE for several hours from 09:45 pm (EST) Wednesday.
Although major evacuations are not required, people are advised to get out of the water and move away from the immediate water's edge.
Next update will be issued by 10:25 PM EST on Wednesday 15 July 2009
For latest and further information call 1300 TSUNAMI (1300 878 6264) or visit www.bom.gov.au".
So basically it'll be about the same as a king tide at Christmas time only a lot faster.
Map & full text of warning
Acros the ditch
(Country in black above Australia is Papua New Guinea. Grey islands are part of South-east Asia.)
"We've had big differences in the measurements of the quake , ranging from 6.6 by GNS Science, to 8.2 by a tsunami warning centre in Hawaii - we're issuing a precautionary message," said an emergency management spokesman in Wellington, Vince Cholewa.
People ran from restaurants in Queenstown as buildings shook, and lights and phone lines went down.
It was felt across the South Island."
Full article at New Zealand Herald
"The US Geological Survey said the epicentre of the earthquake was about 160km west of the city of Invercargill, on South Island, at a depth of 33 kilometres, US Geological Survey (USGS) reported.
Police in the town of Tuatapere on South Island say they have reports of minor cracks in buildings and stock falling from supermarket shelves, but there'd been no reports of serious damage or injuries so far.
The quake was felt widely across the South Island.
The Hawaii-based Pacific Tsunami Warning Centre also issued a warning, saying: ``An earthquake of this size has the potential to generate a destructive tsunami that can strike coastlines in the region near the epicentre within minutes to hours''.
The centre added it was not immediately known if a tsunami had been generated."
Full article at Sydney Morning Herald
(includes quake map)
Shaky Isles
"There are betweenn 10,000 and 15,000 earthquakes in and around New Zealand each year. Most are small, but between 100 and 150 are big enough to be felt, according to GNS Science.
The biggest known quake in New Zealand was the magnitude 8.2 Wairarapa earthquake of 1855.
The biggest New Zealand earthquake since instrumental recording began was the 1931 magnitude 7.8 Hawke's Bay earthquake."
Full article at New Zealand Herald
That's why NZ is known as the Shaky Isles.
And while we're not panicking
Australia now has 20 swine flu deaths and 10,000 current cases of swine flu.
Are we panicking? No, we are not. Okay, maybe that really panicky type down the pub who reads News of the World and believes it but not the rest of us.
Told yer.
Swine flu: [predicted] 10,000 death toll 'alarmist'
In strangely related news
Got
7th place in a NZ travel blogger awards thingy
. Thank yer kindly, Tripbase.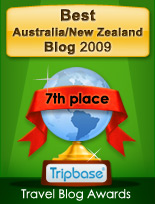 Tripbase Blog Awards 2009